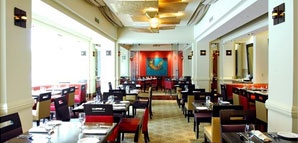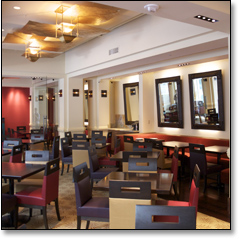 You don't trek to the South Bay. The South Bay treks to you.
Our latest example:
Amber India
, which enjoys a loyal following in Silicon Valley, is bringing its fine dining/Indian cuisine up to SF starting Saturday.
And while the new Yerba Buena Lane location is convenient—steps from the Westfield Centre and the Four Seasons—we're more intrigued by its solid date-spot elements, like plush banquettes and deep-purple sconces.
As you enter, you'll see a statue of the Hindu deity Ganesh, at which point you should cut right and take the onyx stairs up to the bar. Order a
Fire and Ice
, a spicy-rimmed martini mixed with roasted cumin-infused vodka. Then it's on to chef Anish Potdar's simply named dishes, like
Butter Chicken
,
Tandoori Lobster
and
Curried Scallops
. He's cooked some of these for the prime minister of India, allowing you to suavely tell your waiter, "I'll have what the prime minister had."
Of course, moonlight and a beautiful date on your arm aren't prerequisites for turning up here. Amber also has a pretty robust lunch menu, with more than 20 hearty dishes.
It's something to keep in mind if you happen to be in the area.
Or it happens to be in yours.