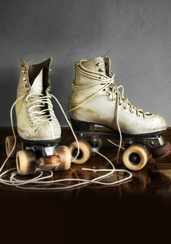 Good news: the NFL is back.
Also, in case you hadn't heard, so is roller-skating.
Though only one will be taking place under the High Line...
Introducing the
High Line Rink
, a four-wheeled taste of the 1980s that's skating around and around in circles right next to
the Lot on Tap
, opening Thursday.
Big picture: this 8,000-square-foot outdoor arena may very well usher in the rebirth of roller-skating in New York City... perhaps even the world. Little picture: you finally get a chance to replay your eighth birthday party. Only this time, there'll be draft beer.
Yes, just like the roller rinks of yore, the High Line's asphalt oval has all the nostalgic trappings you remember. Namely, a disco-spinning DJ, regular theme nights and an abundance of pizza and ice cream sandwiches courtesy of the Lot's gourmet food truck fleet.
So inform the co-ed roller derby team that you're getting the band back together and head over to the northernmost open end of the High Line. When you arrive, grab a pair of old-school rental skates and a tap wine or microbrew pint from the adjacent alfresco bar, then prepare for battle.
Of course, if you're a lover, not a fighter, this rink also presents a prime opportunity to dust off the lost art of the roller-skating date night.
And the even lost-er art of wearing tube socks.