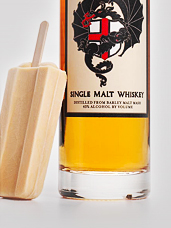 With the mercury rising above 70, it's time.
Time to talk about all things frozen and edible.
Well, not all things.
Just the kind that also happens to be spiked with whiskey.
Introducing
Bar Gelato Whiskey Pops
, a liquored-up summery dessert made by the guys at Gelateria Naia, available now at TCHO and your local Whole Foods.
If you're thinking what we're thinking, yes, this is a great day for mankind. You can now openly enjoy a 10-year single malt anywhere you're happy to eat a popsicle, without worrying about carrying any offending open containers. Also, it's a far more delicious booze transport vessel than a flask.
It all starts with your basic gelato mixture (milk, sugar, eggs and a little cream) that's then spiked with pure, unadulterated, cask-strength single malt from a special stash of St. George that's delivered in moonshine jugs.
While it may seem ironic that you can't get the popsicles at any of the Gelateria Naia locations, you can try the by-the-scoop version there (as well as new up-and-coming flavors like
St. George Gin and Cucumber
and
Triple Rock Stout
).
But soon, if you find yourself at the St. George Spirits' tasting room, you'll be able to get the pops there—once they get freezers.
In the meantime, a few bottles of single malt aren't such a bad consolation prize.