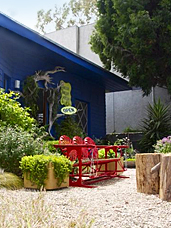 Food trucks. Pop-up restaurants. The four-star kitchen in the back of your Prius.
It can all get a little... mobile. Sometimes you just want to go get some dinner at a stationary spot.
And if it happens to go down at a lush, funky design studio, all the better.
Welcome to
The Secret Table
, a roving supper club that's stopped with all the roving, now operating out of a covert Venice studio called Big Red Sun and taking reservations for dinner on Friday night.
So, yes, this is an underground dinner situation from an esteemed catering company—the kind where you'll sign up on a website to stay informed about discreet, leisurely feasts at an undisclosed location. This time out it's
Spiced Roasted Chickpeas
,
Béchamel Lasagne
and lots of Italian wines. Buy a couple tickets and voilà: you've got a memorable dinner date.
Only now, the location is very much disclosed: for the foreseeable future, you'll be dining on the grounds of a succulent-heavy design space, surrounded by concrete, candles and cacti. It's like you opened up
Dwell
and jumped in for dinner.
And if you have such a good time that you want to relive it in a few weeks, you can—the next dinner's right here, too.
Dwell
always makes you hungry for chickpeas.