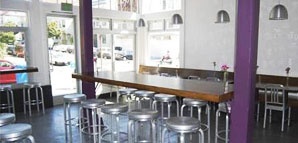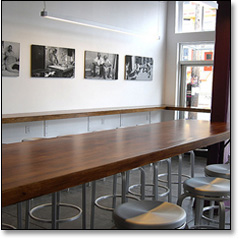 In a city known as much for burritos as it is for cables and steepness, it's about time someone put a fusion twist on the beloved Mexican wrap.
Starting Wednesday,
Kasa Indian Eatery
becomes your go-to spot for kati rolls—the Indian version of a burrito.
Taking over the old La Taqueria Castro space (a burrito-related history was inevitable), Kasa is a Mexican taqueria and Indian restaurant rolled into one. Opting for simplicity, the concise six-item menu includes selections like
Chicken Tikka Masala
,
Lamb Kebab
and
Karahi Paneer
(wok-tossed Indian cheese with vegetables). And while we lean toward the convenient kati roll—with your order wrapped in a buttery, flaky homemade roti—you can also go for the thalis, served on a plate with daal, basmati rice, roti and raita.
Although the fare is considered street food, we still recommend taking a seat—either at one of the walnut-topped tables or at the 10-seat butcher-block bar. For beverages, there's Indian soda like Thumbs Up cola and the mango-flavored Maza, and we hear that consulting sommelier Mark Bright (Local Kitchen and Wine) is sussing out a few Indian varietals.
But actually, we say stick with a Kingfisher Indian lager.
Nothing washes down a burrito better than cerveza.