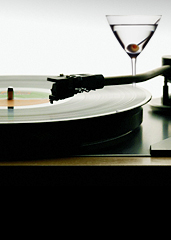 Your mailbox...
We just wanted to remind you that it exists. And also to look out for a package.
No, it's not a check from Publishers Clearing House.
Introducing the
Pairings Box
, a date starter kit stacked with the gifts of music and food (sort of), taking reservations for month-to-month subscriptions now.
Think of this thing as a care package from that special someone, if that special someone had a great collection of limited-edition vinyl and knew how to make a mean chicken Kiev.
When you tear open the packaging, you'll find the essential ingredients for the cook-at-home third date you're currently in the early stages of planning. A digital mixtape (retro speak for "playlist"), food recipes, a few hard-to-find ingredients (like rare Siberian sea salt), cocktail recipes and limited-edition vinyl from a random new band—all built around a theme, like Russian beach party or an evening in Portofino.
Since these guys are signing up-and-coming bands like STS and Soft Power—and just beginning to work with the limited number of vinyl-producing plants remaining in this country—you might have to wait a few months for your first package to arrive.
But then they'll come regularly after that. And don't be surprised if you also get tickets to the featured band's next show.
Call it the fourth date.