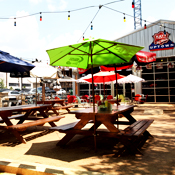 TABLE 109
Katy Trail Ice House
Shade Time Begins: Noon
Shade Time Ends: 2:04pm
Shaded Area: 302 sq ft
Keeping You Cool: Two umbrellas, a fan gently misting you and thick tree branches covering the beer garden. Don't let the joggers on the trail see you shiver.
Ounces of Mist Sprayed per Minute: 15
Your Weapon of Choice: The frozen margarita.