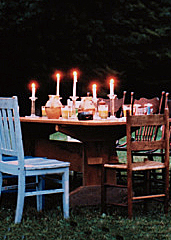 Come closer.
Closer...
Okay, that's creepy close. Step back a skoch.
Perfect. Now, we have a secret to share with you today, but you have to promise to keep an open mind. You see, there's this dinner. The likes of which this city has never seen before. And we've been sworn to a certain level of secrecy here... but then again, our secrets are your secrets.
Below, only what you need to know about
Feast Noir
, taking reservations now for the inaugural soiree on August 14.
The Big Picture

Your organizer for the evening had the grand vision of recreating Paris's annual Dîner en Blanc—think 1,000 people in their white-on-white finest, congregating for a giant, flash-mob-style, one-night-only outdoor picnic. It's like that, only here.
The Location

Undisclosed. For now.
The Garb

Unlike that of your French counterparts, this is an all-black affair. Head to toe. Expect anything from black ties to black tees to black full-body leotards.
The Action Plan

Recruit an adventurous date. Go to the website. Get on the list. Your dining partners will then be randomly assigned—eight per table, one of whom will be the "table-head" and will decide who's bringing the tables, chairs, food and all other necessary picnic accoutrements.
Feel free to volunteer to take care of candelabras and witty repartee.