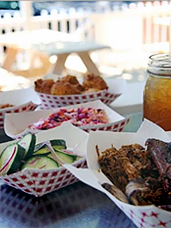 So, Bastille Day was fun.
The Beaujolais, the croissants, the French maids.
But let's get back to our regularly scheduled program: bacon, barbecue and beer.
And the French maids can come, too.
Welcome to
Mamma Pig's
, a rustic country roadhouse more reminiscent of South Carolina than south of Healdsburg, now open in Windsor.
Look for the rusty old pickup in front of a white cottage, and if you remember it from its haute-French days when it was Mirepoix, then you'll recognize the chefs/owners who decided to leave that Michelin-starred, prix fixe life for something far more down-home. (After a few strips of homemade bacon and a half-rack of ribs, remember to thank them.)
Now, it's a true barbecue joint with a smoking outdoor pit front and center. So while there are tables inside overlooking the porch, you'll want to grab a mason jar of
Moonlight's Death and Taxes
and head to the picnic tables in front—downwind of the pit.
Snack on the
Pig on a Stick
—four pieces of pork belly with dipping sauces—then decide between a bacon and egg
Grumpy Neighbor Burger
or the pulled-pork sandwich.
And, as proof that they'll put bacon on anything, look for the
Bacon-Lattice Bourbon-Apple Pie
that's part of their specials rotation.
"À la mode" just got real.