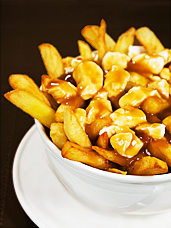 It's now been established that you're going to be hunkering down this weekend. We'll be seeing you on the other side.
And when it's safe to take to the streets again, there'll be mountains of fries covered in cheese curds and gravy waiting.
Introducing
The Poutine Truck
, a roving ode to the best Canadian import since Bryan Adams, officially beginning its post-Car-mageddon rollout this Tuesday.
Now, it's not like you'd ever wish for a brutal hangover. But if you happen to come across this thing on a street corner after a long night, well, you might start believing in fate. The signature specialty is made from hand-cut Kennebec potatoes, which don't become fries until you order them. That's your base.
But
you've got a few choices
from there: chicken- or beef-based gravy to be poured on top and one of three types of cheese (plain, garlic herb or jalapeño-spiked Firehouse). If you like, defy tradition and throw on some onions and actual meat, too (the Canadians won't mind).
You can even go for the
Lardon & Frites
, which are fries and apple-smoked bacon.
You know, as a side.