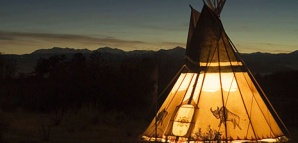 When hot weather hits—and this summer it's hitting hard—heading north is always a wise move.

But if you're looking for pampering as well as a cool breeze, a teepee isn't our first recommendation. Unless you're talking about the new Perfect Earth Tours Spa & Resort.

Opened last month in Canada's Yukon territory—just a stagecoach and seaplane ride away from the capital of Whitehorse—Perfect Earth is probably the world's first upscale spa-retreat located inside a few teepees (at least in this century). And for those squeamish about sleeping within a canvas tent, trust us, this isn't like any wigwam you've seen in a Western. Each of the five guest teepees has more square footage than your average Manhattan studio, with a queen-sized bed, silk sheets, wifi, solar-powered DVD player, fully stocked bar, private dining area and personal bathroom.

When not relaxing in your cone-shaped palace, your activities include adventure hikes through the moose- and grizzly-laden wilderness (relax, there's an electric fence), plus aroma flow massages, alpine honey body wraps (for her) and detoxifying steam baths.

And for late-night cravings, there's room service—er, teepee service—or you can always cook up some vittles over the in-tent fireplace.

Because sometimes it's good to rough it.