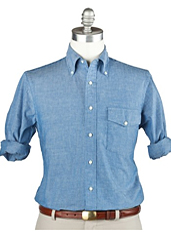 Around this time of year, you start to feel it everywhere you go—that hot, wet, swampy, Southern-style mugginess.
Which means two things: 1) you should probably be reading this from a porch swing, lemonade in hand, and 2) you may want some lighter clothes...
So say hello to
Sid Mashburn
, a Southern-charmed tailor who launched his online shop today.
His clothes are what you'd expect to see on Alex P. Keaton if he had hailed from Savannah. So when you get your next invite to a semiformal garden party (and really, it's only a matter of time), you can outfit yourself in chambray dress shirts, knit ties and brightly colored chinos that came to Atlanta by way of Milan. And if you happen to have lost your best summery plaid tie in a fireworks-related mishap, he'll be able to hook you up with a suitable replacement.
Sid's been outfitting Atlanta's better-dressed gentlemen since '07, so each item is finely tuned to Southern tastes and, more importantly, the Southern climate. So by the time your Labor Day barbecue rolls around, you'll want to have some gingham shirts ready to go—not to mention a couple of the neon pocketknives he has in stock.
You can never have too many neon pocketknives.