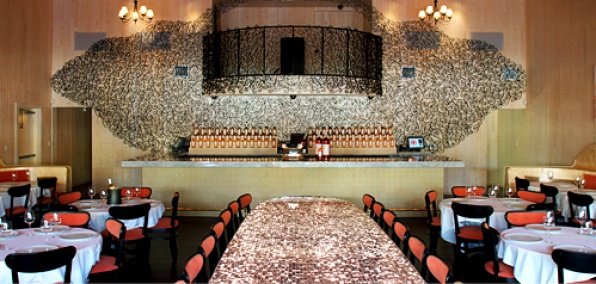 Every day is the Fourth of July for you.
But that's not to say you don't appreciate the best of the best of other cultures when the time is right.
So as Bastille Day approaches, a certain notion comes to mind.
You could really go for some mussels...
Welcome to
Rosé
, an indoor-outdoor den of shellfish, wine cocktails and European DJing that feels like Saint-Tropez on La Cienega, scheduled to soft-open Tuesday.
Step inside and you'll see what we mean: the whitewashed walls, copper accents and large patio with umbrella-covered tables make this the perfect place for your next dinner party involving any guests with surnames like Bruni, Béart and/or Binoche. Been ages since you caught up with Frank Binoche.
Start with a round of
Electrolytes
(vodka, watermelon, pineapple and, yes, rosé) at the porcelain bar inside, then lead your group out to your table on the patio for a feast of
Goose Fat Roasted Potatoes
and
Moules Façons Rosé
—it's 
steamed mussels
with, yes, more rosé. They have their own label here, made specially for them in Saint-Tropez.
At a certain point after sundown, your dinner party will get less dinner-y. The Euro music will become more prominent. And you'll find yourself getting to know your expat neighbors—the place stays open until 2am.
After that, well, it's still LA.