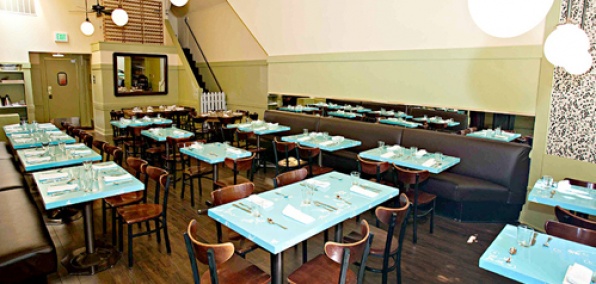 Ah, the '70s.

A time when lunch in North Beach was a glorious ritual—the martinis, the cameos from Herb Caen and the occasional mob boss... the martinis.

Well, good news: they're back. (The martinis, not Herb...)

Introducing Bottle Cap, a brand-new bistro tucked into a former old boys' club, soft-opening tomorrow.

Now, of course you have plenty of options for a stiff martini in North Beach. But few have this kind of history—the joint used to be Washbag, the legendary hangout whose heyday roughly coincided with Mayor Moscone's tenure. For the most part, the new place looks pretty different, but you'll be happy to know the dark backbar remains intact.

So you'll still guide your date under the slow-turning fans to that same copper-topped bar from four decades ago. Start with a cocktail—a flaming negroni or, soon, one of their barrel-aged concoctions—served up by a Bourbon & Branch vet.

Then head into the main restaurant—a bright joint with turquoise tabletops, lime green walls and skylights with traffic light covers, producing a stained glass effect. Opt for a two-top by the window overlooking the park and order up a pork chop, a flat iron steak or... a grilled cheese.

Nothing pairs with negronis like a grilled cheese.