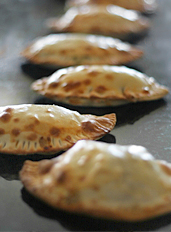 Congratulations...
You're about to embark on three days of cabana crashing, firecracker launching and naked tag-team flag folding.
That's right, you're going to be busy.
A few essentials for making it to the other side (also known as Tuesday): fire-resistant swim trunks, a case of coconut water and the right protein/carb mix that cowboys in South America rely on...
Here to help:
Venga Empanadas
, a new takeout joint fixated on the calzone-like meat pies that you'd find on the streets of Buenos Aires and plains of Argentina, open now on Valencia.
It could be that when you think Argentina, you think steak—so we're on the same page there. But since it's hard to eat a steak on the run, you'll appreciate the convenient transportability of these handheld numbers baked here—a minimalist, gaucho-themed spot half a block from 16th Street.
While you might've had these empanadas at Stable Café or La Victoria, this is where you'll come to find the biggest assortment, including classics like the
Argentine Beef
as well as the new
Spicy Beef
made with slow-cooked ribs and chipotle peppers—and the
Bacon & Eggs
version for breakfast.
Soon they'll have rotating specials of anything you can imagine: turkey and stuffing empanadas at Thanksgiving aren't out of the question.
Oh, and before too long, look out for the late-night pickup window.
Every step saved at those crucial hours is like gold.