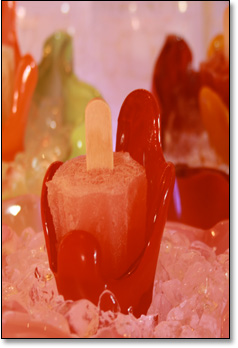 When navigating a debonair adulthood, one must inevitably give up some pleasures of childhood…or just spike them with booze.
In that spirit, you'll find the summer heat a bit easier to enjoy thanks to the
Martini Popsicles
now being served inside the Beverly Hills Hotel.
Available at Bar Nineteen12, last year's indoor-outdoor addition to the hotel's older (in all senses of the word) Polo Lounge, the alcohol-enhanced popsicles come in three flavors—apple, watermelon and sour cherry. (Vodka being the connective ingredient, of course.) You'll want to enjoy them on the outdoor terrace, with your favorite fruit-drink-prone date in a semi-secluded booth for two. It's a concept we'd like to see taken one step further, so we're currently attempting a more classic "straight up" variation in the lab of Los Angeles HQ…if only we could figure out how they get the vodka to freeze.
The science-defying drinks on a stick herald the return of Nineteen12's summer menu, which also includes a traditional Caipirinha and a Tokyo Tea—the latter boasting five kinds of liquor, but no tea.
Because when devising a drink, it's important to know your audience.