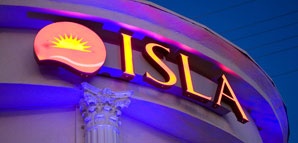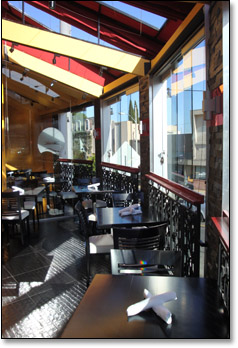 Cold drink, hot date, warm sun on back—sometimes your needs are simple, bordering on primal.
And when you're squandering a sunset stuck in Sunset Boulevard traffic, primal instincts kick in pretty quickly. So we found a place to help you soothe them:
Isla
, the new indoor-outdoor cantina opening tomorrow on the Sunset Strip.
The inspiration behind the name isn't hard to guess—Isla's dominant turret rises up from the corner of Sunset and Holloway, an island surrounded by converging brake lights. (You know the building—next to Red Rock, once known as Tangerine, and, before that, Woody Harrelson's oxygen bar, which disappeared faster than that mullet he had in
Money Train
.) Upon entering, you'll find that the large windows and retractable roof up this incarnation's chances of sticking, especially after a couple of sturdy tequila-based concoctions like a
Mexican Sidecar
or a
Mighty Matador
.
Take a seat under that retractable roof (past the airy main bar, through the small corner lounge), where the view is best of the summer dresses strolling past. If your second round awakens your appetite, the menu ranges from small plates to a filet mignon, with
Mexican Banana Toast
for brunch. There's also a humidor, for all your post-brunch-cigar urges.
After all, you wouldn't want to deny your instincts.