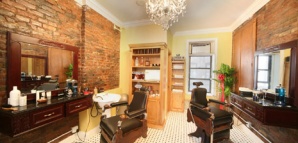 Even if five o'clock doesn't find you with the so-called shadow, sometimes you want to knock off the grime of the workday and transition to more stylish pursuits—for this, a classic shave is never a bad way to start your evening.
Luckily, there's a new bladesman ideally situated between the office and your dinner date. Welcome to
The Shave of New York
, an old-school Nolita barbershop focused on the important lost art of the pre-outing shave.
Just find your way down to a quiet stretch of Elizabeth Street and settle in to a hot towel, a pre-shave oil tailored to your skin type and a skillfully handled straight razor. If you've got time on your hands, we suggest a scalp treatment, which means a thorough conditioning followed by 30 solid minutes of skull massagery. (In other words, your scalp should be tingling well through your second drink.)
The family behind Shave has been barbering for 40 years now (they're also behind Grand Central institution Francesco's), so they can tell you more about the '70s mustache craze than you ever wanted to know. The oils and creams on the shelf are all from centuries-old British firms like
Taylors of Old Bond Street
, and they're all glycerin-based and alcohol-free to preserve your immaculate visage. And, naturally, the family keeps the liquor cabinet full in case you're caught waiting. 
Which should leave you extremely well-prepared for dinner.