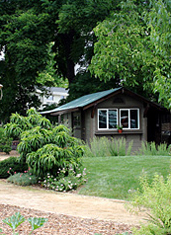 We've never told you to buy Wagyu brisket out of a beige shack in Napa Valley before.
But to be fair, you never asked.
Either way, Thomas Keller is getting in the shack/brisket game.
And it looks something like this:
Introducing
Addendum
, a daytime pickup window dishing out paper bag gourmet twists on Southern comfort staples from Ad Hoc, opening tomorrow in Yountville.
This backyard locale is like the country cousin to the French Laundry. So all the formality is tossed out the door. Just show up in your picnicking best and hang out at one of five picnic tables. Or order up and make haste for a nearby winery. Or drive all the way home if you're feeling crazy and you can resist eating on the 101.
Basically, every Thursday through Saturday until the end of October, you can walk around Ad Hoc to the back, look for a little beige shack (and probably a line that's hopefully not too long), step up to the window and bathe yourself in some Keller-ness.
They're keeping the menu limited to two main dishes (fried chicken or Wagyu brisket), with a changing roster of sides like corn succotash and thyme biscuits.
It's all first-come, first-served, so you'll want to call in your order in advance instead of chancing the line or email them a day ahead if you're expecting 10 or more.
Orders, not necessarily people...