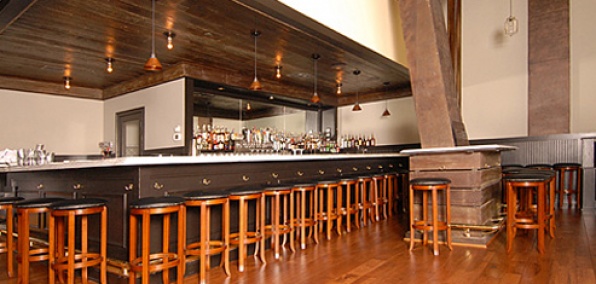 Sometimes, changes just need to be made.
Yes, we could be talking about managers who quit in the midst of unusually long winning streaks.
But we're also talking about bars that trade their industrial concrete for wood and leather; their scotch eggs for oyster fritters.
So say hello to
Acre 121
, a comfy new bar set to open tomorrow in place of the old Commonwealth Gastropub in Columbia Heights.
It's not just the space you'll recognize. You also might know the owners, who opened
Lou's City Bar
next door this spring. Here you won't see any TVs, but you will see a stage for live acoustic bands, a marble bar and rustic wood planks covering the old concrete floor.
If it's just you and your companion du jour, you'll want to grab one of the cocktail tables by the stage and start wending your way through the contents of the microbrew-heavy tap handles (think Goose Island Matilda and Blue Point Toasted Lager).
But if you're leading a larger group, you'll want to settle in under a low ceiling in the back, where a leather high-top banquette can hold a dozen or so, as you pass around plates of spicy collards, grilled shrimp BLTs and
Charleston Chicken
(shrimp, sherry butter, country ham).
So much better than the Myrtle Beach meat loaf.