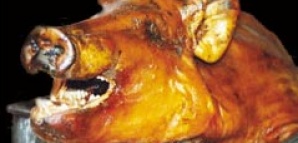 It's Tuesday, but you're already planning for game day. High-def flatscreen—EMcheck. Reliable offshore bookie—called. A bunch of hungry friends ready to descend on your apartment—for better or worse, check. But the last time you ordered pizza and wings, the Giants took a beating and your friends looted your kitchen—it's time for a change.
The Other White Meat
Spanky's BBQ has stepped in to macho up your game time meal options. With 48 hours' notice, they'll deliver an entire suckling pig, smoked for half a day in its skin to seal in all the juicy flavor, plus potato rolls and pig sauce. Once you slice the pig open, it's a free-for-all to pull out some of the 30-plus pounds of meat within.
Wash it Down With a Little Heat
Because this preponderance of pork makes a man thirsty, Spanky's throws in a mini keg (60 pints) of Heartland Brewery beer (their spicy new "
Caliente Lager
," made with ancho chile peppers, cuts through the BBQ sauce nicely). The fried pickles are a must-add, and for the truly gluttonous, you can add in extras like ribs or pretty much anything from
Spanky's delivery menu
.
A Good Porking
Of course, after the game it's just you,
SportsCenter
and Wilbur's skeleton. That and the spare keg of caliente beer hidden in the back of your fridge...