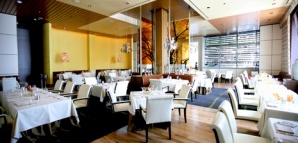 During road-trip season, you never know where you might end up.

And if you find yourself down south in an Orange County mall—stranger things could happen—you now have a dining option.

Presenting: Charlie Palmer at Bloomingdale's.

Here to address all your denim and cabernet needs simultaneously, the restaurant is located on the ground level of the department store. Once settled in, you'll be handed a touch-screen database of the 850-bottle wine list, kind of like a giant iPhone you can use to sort the vast selection by region, varietal or food pairing. (It's delivered by a sommelier of the human variety, if you prefer to do things the old-fashioned way.) You can also compile your digital findings into wine-bottle six-packs—grouped however you see fit—at the connected wine shop, Next Vintage. (That's right—it's a restaurant, it's a wine shop, it's a Bloomingdale's.) 

As for the food, your shopping break will consist of Lemongrass Poached Lobster, Pancetta Wrapped Quail, or if you just want to hit the bar on your way to the cologne section, a PBLT (pork belly, lettuce, tomato).

Try finding that at the Beverly Center food court.