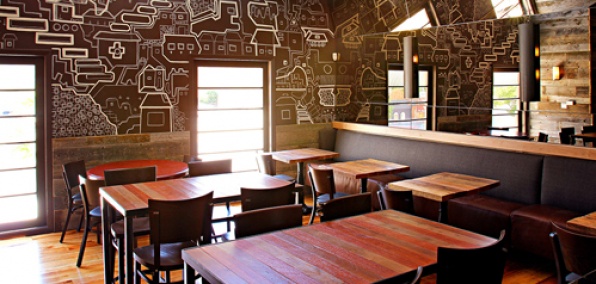 Under blue skies, a Peruvian flag waves proudly in the breeze.
It signals a beacon of ceviche. A mecca of pisco sours. And the lush wilds of South American culture known as... Pico Boulevard.
Welcome to
Picca
, the long, long-awaited Peruvian cantina from one of our city's most exalted chefs, Ricardo Zarate, accepting reservations now for its June 25 debut.
First, a word on what they
don't
have: no vodka. No scotch. They're sticking to Peruvian roots here, but with an LA twist. So you and your date will be starting off at the bar with some rhubarb-infused pisco or a Chilcano with pisco and ginger beer. In short, they're getting their hands (and thus your hands) on every Peruvian pisco available. (In a pinch, you could always sneak in a martini at Sotto—it's right downstairs.)
Next, you'll find your wooden slab of a table under the Peruvian mural and pull up an alpaca-covered stool. That's when the man behind the stoves at Mo-Chica and Test Kitchen will
load up your table
with empanadas, grilled scallops, a trifecta of ceviches and, if you're up for it, beef hearts from the robata grill.
Thank you very much, Mr. Robata.