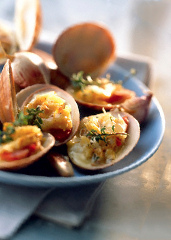 Today, we're going east.
Not just across the Bay, but clear across the continent.
To a place where the nights are warm, the days are sweltering and there are lots and lots of lobsters...
Welcome the
New England–Style Lobster Clambake
, a mobile, crustacean-focused catering service out of Sam's Chowder House's ChowderMobile, taking orders now.
Okay, so we're really not going east exactly. But we've found a way for the best parts of East Coast summer nights to join you at your place. So you'll be in the company of your closest friends and an Atlantic-seaweed-cured steamer box filled with piles of Maine lobsters, clams, mussels and chorizo via a little outfit out in Half Moon Bay.
Here's what you'll need to do: call or email Sam's with the date, the locale and the head count. They'll show up with the aforementioned goods, plus corn on the cob, potatoes and clam chowder.
If you want a raw bar appointed with oysters on the half shell, some steaks on the grill or even a supply of beer and wine, they can accommodate that as well—right down to hosting oyster-shucking contests and s'mores roasting.
There are no losers in s'mores.