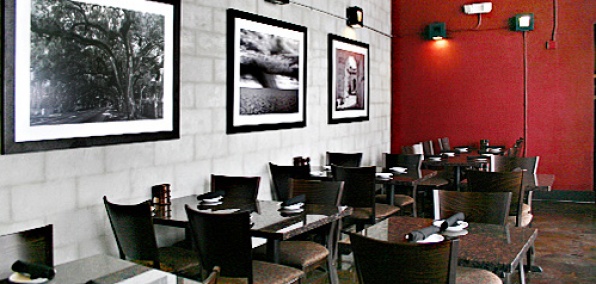 Your dog.


Best friend. Reliable wingman. Sushi enthusiast. (Naturally.)
If only there were a place that appealed to your shared passions...
A place like NoVe
Kitchen & Bar
, a sprawling new pet-friendly restaurant masquerading as a sleek sushi bar, now open downtown.
This is where you'll bring your four-legged sidekick (Baxter) on those nights when you're in the mood to sit outside, bask in downtown's flickering lights and settle in for sushi and sake. Located in the ground floor of Opera Tower (the name stands for "north of the Venetian Causeway"), the place is handsome enough: brick walls, wood tables, a six-seat bar.
But you'll want to spend most of your time outside, where there's plenty of umbrella-shaded tables and where your pooch will be presented with a water bowl, a biscuit and plenty of space to sniff around.
The menu includes everything from Japanese pub grub to burgers and steaks, but you'll want to focus on the
signature rolls
from chef Hiro Terada (formerly of Doraku), incorporating things like bacon, tempura lobster and entire barbecued eels.
Right now the place is open from 6am until 2am, with plans to eventually go the full 24 hours, should there be round-the-clock demand for the joint's Spam-flecked fried rice.
Which, of course, there will be.