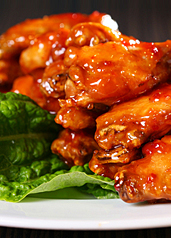 Father's Day. Poker night. Wednesdays.
All have one thing in common: they go better with beer.
Also: some wings wouldn't hurt.
Which brings us to
Wing Wings
, a singularly focused depot for all things chicken wings, opening Wednesday in the Lower Haight.
It's pretty straightforward: wings, served up with a daily rotation of roughly eight sauces. You've got your basic buffalo, a barbecue and a Korean-style. As for the rest, we can't say—we've been sworn to secrecy—but you're in good hands, as they're cooked up by the former chef of Little Skillet.
To offset the wings focus, you can order staples like fresh-cut fries and gravy, fresh biscuits (also with gravy), macaroni salad and coleslaw. To top things off, there will also be crème brûlée shuttled in from the Crème Brûlée Cart. (Naturally.)
Sure, you could grab a stool at the small counter for a quick bite. But the focus is primarily on takeout, with no beer or wine (save for a bit of hooch incorporated into the barbecue sauce). So with Toronado just over a block away, you'll probably want to take your wings there and have them with a couple frosty pints.
In a few months, they'll employ the good messengers at TCB Courier to pedal wings to you.
It's best to leave bike deliveries to the experts.