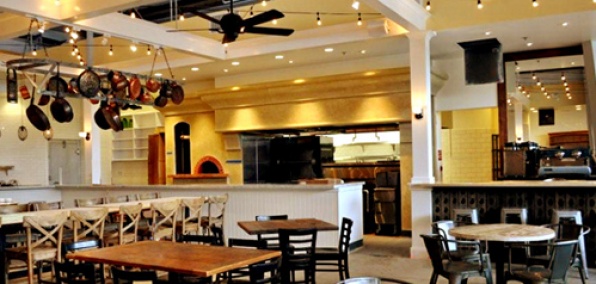 We don't want to alarm you, but:

Your kitchen. It's been relocated. To wine country...

Introducing Kitchen Door, a low-key, patio-equipped restaurant in what feels like a very large, open kitchen, opening Tuesday along the Napa River.

This is a rustic spot next door to Hog Island and it happens to be right on the river's edge. Which means that you can finally make a grand entrance via kayak.

So after helping your date out of the vessel, you'll head inside and dry off over drinks in a booth or at the long communal table under the hanging rack of copper pots and pans.

Once sated, you'll head to the patio, where you'll have everything you need for an impromptu deck party: an open-fire rotisserie, a pizza oven and a wood-burning fireplace.

You'll want to lounge by the water and sample from eight wines on tap. The place is helmed by a Martini House vet, so you'll feast on revamped staples like cream of mushroom soup and the Kobe Burger with Wine-Stewed Onions.

The meal of champion kayakers worldwide...