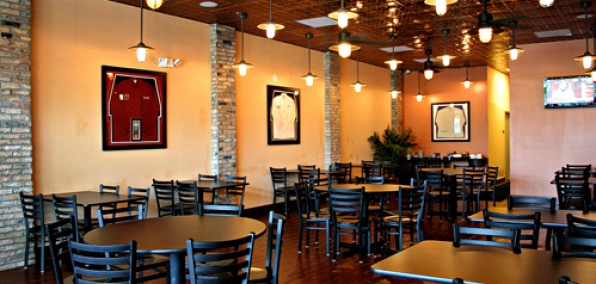 Yeah... so, last night. The Heat. That was rough.
You need a pick-me-up. Preferably something involving beef, bacon and... bacon candy.
Here to comfort you in a bosom of towering half-pounders:
Bulldog Burger
, a beefy extension of the Bulldog Barbecue empire, now open at the North Miami joint.
Here's what you need to know: the owner (and former
Top Chef
contestant) Howie Kleinberg has doubled the restaurant's size by taking over the space next door and transforming it into a copper-ceilinged burger temple. You'll still enter through the BBQ restaurant's doors, and still be able to order off the barbecue menu (which ought to do wonders for your blood iron count).
But back to the burgers. It all starts innocently enough. An eight-ounce patty of ground Angus (with an 80-20 ratio of beef to fat) is seared on a griddle. Then,
depending on the burger
, the slab is topped with all manner of mad-scientist deliciousness: bacon candy (cured with brown sugar), bacon-jalapeño marmalade, spicy mayo spiked with Bustelo coffee, caramelized banana jam. Hash brown cakes, for crying out loud.
Oh, and the bun. For the
Luther
, the bun mimics the taste and texture of a Krispy Kreme donut with a dousing of sweet glaze. Yes, it's named for Luther Vandross.
As if you had a doubt.