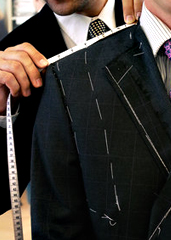 All right, let's get back to your dad for a minute here.
So you went ahead and bought a few of those
beer-infused cigars
we told you about last week. Nice. We're glad you took us up on that. Hope he likes them.
But now, it's time to get serious.
As in Rolls-Royce, champagne and Sid Mashburn serious...
Behold
A Sartorial Splendor with Sid Mashburn,
an all-day affair involving joyrides in unnecessarily ostentatious automobiles, champagne popping and heroic amounts of flagrant haberdashing, standing by now to blow your dad's mind.
Before we go any further, we should tell you that this experience doesn't come cheap. Then again, neither did the repair costs for the first 19 of your dad's cars you wrecked (the word "comeuppance" may or may not be employed). So this year, in lieu of that new tie and/or a shiny new pair of dad jeans, you'll make the call—about seven days in advance—to set things up.
And when the day comes, you'll want to drop Clyde and Martha (we're assuming those are your parents' names) off at the St. Regis. At which time Dad will be picked up in a Rolls-Royce Phantom and chauffeured off to the Westside for a private wardrobe consultation (and champagne) with Sid Mashburn himself. Post-bespokathon, he'll be Phantomed back to the hotel where a dinner for two, more champagne and a suite for the night await.
And probably your mom, but gross.
Note:
A Sartorial Splendor with Sid Mashburn, starting at $2,400, seven-day notice required, call 404-563-7926 or <a href="mailto:hansi.pagnotto@stregis.com">email</a> for reservations