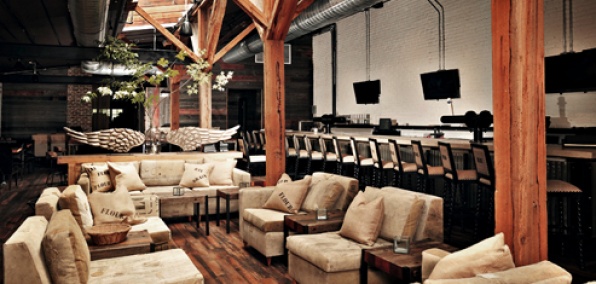 Today, we're going back to the 19th century. To a place where men gather to sit on burlap-covered bar stools and sup on rich sausages and strong whiskeys.
And, naturally, play
Donkey Kong
.
Welcome to
Virtue Feed & Grain
, opening Friday from the team behind Restaurant Eve and PX to give your weekend the leather-clad game room and beer cocktails it deserves.
If Ken Burns needed a slow, sepia-toned pan shot of a Reconstruction Era tavern, he might shoot it here—the building was a feed house 120-odd years ago, and they've brought in enough reclaimed wood for an Amish barn raising.
First order of business: head upstairs, where windows look out to the water and furniture is upholstered in burlap sacks and feed bags. There, you'll take up a post at one of the big communal tables and summon plates of deviled eggs, prawns,
bone marrow and Shaggers Pie
(not what you think; more like shepherd's pie).
From there, it's a short stroll into the rear parlor, where you'll find a classy red billiards table, leather couches, Wii on a big screen and classic arcade games—in other words, plenty of reasons to keep ordering any of their 80 beers (ask for a bottle and they'll give you a koozie) or their five "Hoptails." We're talking concoctions like Irish stout with champagne, Irish whiskey and currant soda.
Make sure your handlebar mustache is well waxed.