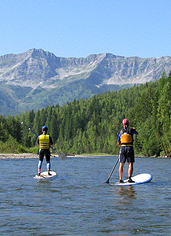 Today, we want to talk about the journey.


Specifically, a breakneck journey down a patch of Northwestern white water. Oh, and you're taking said journey... on a paddleboard.
Introducing Sundance Kayak School, an outfit running stand-up paddleboarding expeditions down Oregon's Rogue River, taking reservations now.
You might be familiar with the flat-water version of paddleboarding, where you stand gondolier-style over calmer waters. But once you add a little white water to the equation, you'll need Laird Hamilton–levels of balance just to stay out of the water.
Which is to say, you'll be navigating a raging Northwestern river on an inflatable surfboard. (It's lighter and less breakable than your usual longboard.) You'll spend the morning learning to paddle without doing an accidental cannonball and, after lunch, head down four miles of Rogue River, through canyons, woods and the occasional ranch. (As with most rivers in Oregon, if you paddle far enough, you'll reach a microbrewery.)
The guide company has been paddling this river for over 25 years, so they know the route pretty well—although they usually take it by kayak. If you're particularly impressed, you can follow them across a border or two: they run regular kayak treks in exotic spots like Bhutan and Siberia.
Bring a pool toy, just in case.