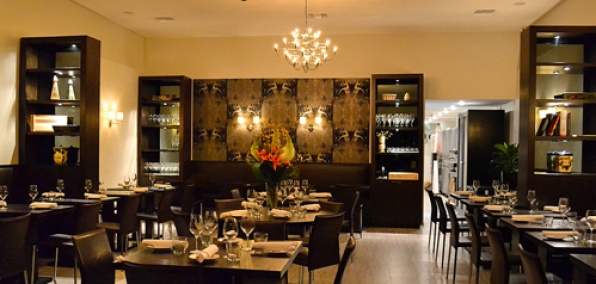 In the shadow of the 101...

Surging over the majestic crests of Cahuenga Boulevard...

You can't help but feel transported to some romantic, undiscovered corner of Italy.

There's just one caveat here.

We're assuming you've pulled over and tucked into Ombra Ristorante, an intimate new Italian bistro for pasta, prosciutto and wine, now open on Cahuenga.

If you've got a lunch meeting with some development execs at Universal next week, this is the place to casually suggest if you don't want to look like you're trying too hard. Over a leisurely meal of Tuscan White Bean Salad and Cavatelli with Dungeness Crab, you'll find that the simple white-walled decor is like an elegantly blank canvas—keeping the focus on your pitch for Cowboys & Aliens 2: Pioneers & Cyborgs. (A bottle of bombino bianco should also help this along.)

And after sundown, this will be "just a little place you know" to take an unassuming date—lead her to a corner table and take your time with some Wild Boar Chops, Gorgonzola with Marinated Figs and a nice barolo.

And maybe a sequel involving chianti.