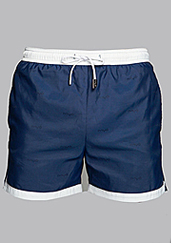 Lake Como's known for a few things.


Grand hotels. Clooney's summer pad. The single best place in the world for a tuxedo-clad motorboat race.
And, as it happens, the place makes a hell of a swimsuit.
Introducing MYO, a line of swimsuits perfect for your next transcontinental beach party, available now.
These are the kind of swim trunks Redford or Beatty would have packed for Cannes. We're talking tropical colors and a slim, European cut—but not so European you'll be challenging any decency laws. The suits all have mini-logos sewn into the fabric (like an aquatic version of critter pants), which could be anything from a spade to your own personalized monogram or symbol. (We vote for the shark.)
They're all stitched together at Lake Como, designed to play as easily in St. Barts as Saint-Tropez, with a hidden drainage system inside each suit to keep it from puffing up, sagging or doing anything else that might endanger your impeccable silhouette.
Or hurt you in the cannonball competition.