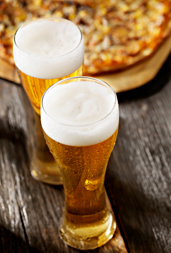 Anchor Steam: a local, time-honored brewing tradition dating back to 1896.
Also: best enjoyed in frosty pint form.
Also: remarkably filling when in pie form...
Introducing the
Pizza Futura
, a blistered, crusty pizza made using Anchor Steam dough, topped with handpicked tomatoes and prosciutto, available now at Tony's Pizza Napoletana.
At first glance, it looks exactly like any other ordinary meat-topped pizza. But, you know, better. First off, the 12-grain, 93% hydration dough (just making your 92% hydration cutoff point) has a subtle hint of a hoppy, brewed ale flavor that's definitely there, but pretty easy to miss if you're not looking for it. So just to make sure, you'll be biting into a layer of triple cheese that includes Sierra Nevada mozzarella, along with Monterey Jack and white cheddar, all with the aim of giving the whole beer flavor a boost.
In addition to the cheesy IPA, it's topped
with prosciutto, caramelized onions, arugula, a drizzle of blackberry honey and optional hand-crushed, pink-Himalayan-salted Bianco DiNapoli tomatoes.
Salted tomatoes are code for more beer.