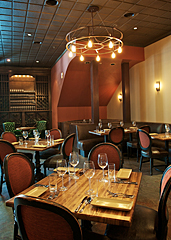 Five days.
That's all that separates you from a glorious weekend of BBQs, bonfires and breaking out the white pants.
At which point you'll need something else to look forward to. Like a sexy new den of Spanish deliciousness...
Introducing
Txoko
, a slice of San Sebastián serving up small plates and cocktails until 2am, opening next Tuesday in North Beach.
You knew this space as Enrico's, but all that remains is a dimmed neon sign hanging outside. Now you'll find an inviting, wood-planked back bar surrounded by an elevated communal table. Also, a mural with an eye-patched rabbit, a bow-tie-wearing fish and a Holstein donning a bowler.
So about that name. It's pronounced "choke-o" and refers to
a type of Basque supper society—like a poker club, but with food
. The key word here is
pintxos
(small plates), which you'll find in the form of
Foie Gras a la Plancha
with an Iberian rioja.
If you're stopping in with a date, start by standing at the cocktail bar with a bacon-bourbon-spiked
Fatty Arbuckle
, or the serrano-pepper-tequila-infused
Caliente Sunrise
, before retreating to the outdoor patio. For a bigger group, summon the aforementioned
pintxos
from the circular corner booth, which seats six.
And doubles as a good spot for your siesta.