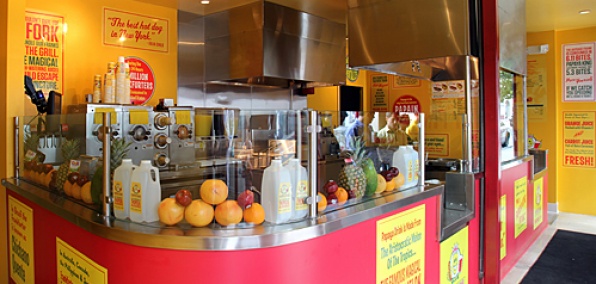 The time: 2:35am.

The place: Hollywood.

The actress on your arm: [redacted].

The hot dog craving: intense.

The solution: Papaya King, the brightly colored new outpost of NYC's famed shack of addictive hot dogs and sweet, sweet papaya juice, now open until 3am daily to sop up your wild Hollywood nights.

First thing you should know about this place: the doors open here at 11am. So sure, you could drop by, step up to the counter and order a quick lunch to go. They don't have anywhere to sit down, but they do have classic franks that come simple (ketchup, mustard) or more complicated (the Side on Top has chili, cheese and curly fries).

And to wash it all down: everything from fresh papaya juice to the Papaya Pride, a smoothie with papaya, pineapple and strawberry that can be supplemented with protein, flax and wheat germ. (Finally, a personal-trainer-friendly hot dog joint.)

But honestly, you're more likely to be craving this place at that moment in your night when the clubs in the area are closing up—that magic hour between 2am and 3am when you can either cash it in or fuel up and keep it going.

Or fuel up and cash it in...