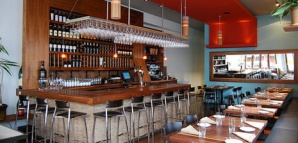 North Beach needs another Italian restaurant like the city needs another wine bar.

Meaning: There's always room for one more.

Enter Vicoletto Ristorante, which opened over the weekend on Green Street. Vicoletto, which means "little alley" in Italian, is the vision of two childhood friends who grew up kicking soccer balls down a tiny alleyway in their small Calabrian town (hence the name).

Their goal these days is to bring a taste of that village to San Francisco. And judging by the full-blooded Italian mama in the kitchen (we found co-owner Francesco Covucci's mother hard at work hand-rolling fusilli), combined with the could-you-be-more-Italian chef Gabriele Lastaria, who moved here straight from Naples less than a month ago, we think you'll find this one stands out from the pack.

Take a seat at the massive bar made of exotic woods (you'll recognize it from the space's previous identity, Nua) and begin with a glass of red from the small but thoughtful Italian list. Then look for tagliatelle, the aforementioned fusilli and even rabbit-stuffed ravioli—each one is homemade from family recipes—along with meat dishes like grilled branzino.

And don't be late, either. It worries Mother Covucci.