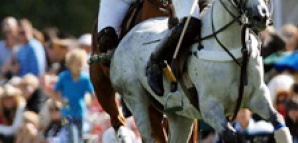 Being a sports fan in Manhattan can leave you a little...under-stimulated.

The Knicks are a disaster, and beyond that we're left with a smattering of wrestling matches and circus acts at MSG. Even worse, the Bronx has the Yankees, Queens has the Mets (and The U.S. Open), and the Hamptons has polo.

Well, we're taking one back. At least from the Hamptons. This Saturday, the pastime of princes lands on Governors Island with the Veuve Clicquot Manhattan Polo Classic, the first polo match in Manhattan in more than 70 years.

If you've never been to Governors Island, think of this as your opportunity to do some exploring. But first, polo: Take the ferry from South Street in the early afternoon, set up a picnic at the field, grab a bottle of Veuve from the champagne bar and soak in the view of the Manhattan skyline. Or work your magic and find a way into the invite-only VIP tent, where they'll serve lunch, tea, champagne and your ego.

The match itself pits Ralph Lauren's Black Watch team against Asprey's house team—winner gets luxury bragging rights—and when it's finished you should have plenty of time to walk around the tiny 172-acre (that's 22 city blocks to you) island landmark and park.

Or to get back in time for game six of Lakers-Spurs.