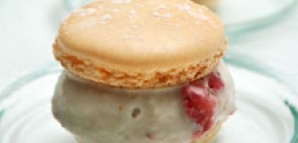 The week is always longest just before a holiday weekend—and when Friday finally comes, you want to kick things off with something new.

Something strangely nostalgic. Something cold. Something...at a bar.

You know, like a plate of Ice Cream Burgers—part of the new bar menu at Noé Restaurant inside the Omni Hotel.

Think of it like a combination plate of sliders, but with ice cream as the meat and macaroons as the bun. Since it's on the bar menu, no need to bother with actual dinner first—just head upstairs, grab a stool at the counter and order your "burgers" with an Irish coffee. (Chef's choice.) When the plate arrives, you'll find a surprise assortment of house-made mocha, strawberry and vanilla patties (depending on the day) between poppy, sesame and almond macaroon buns. (Just like Mom never used to make.)

If after your dessert you feel like you might need some, uh, dessert, then you're in luck, because the chef (Glenn Ishii) has also created an assortment of cereal-flavored ice cream. Your childhood favorites like Cap'n Crunch, Apple Jacks, Cinnamon Toast Crunch and Honey Nut Cheerios have all been taken to unprecedented new territory.

Like a bar.