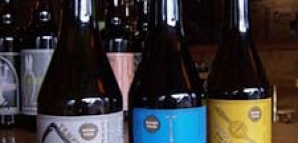 There's something noble about beating the odds and coming out on top.

Like when you're a down-and-out club boxer in Philly. Or you're a 40-year-old rookie relief pitcher. Or you're a beer maker in Wine Country.

That's why we've been fans of Russian River Brewing Company—responsible for hoppy greats like Pliny the Elder and admirably named pale ales like Lap Dance—for some time. And why we think you'll like their Wine Barrel-Aged Beers.

In a classic "if you can't beat 'em, join 'em" move, RRBC is the first brewery in Sonoma to use wine barrels to produce beer. They age the brews in wine-seasoned oak barrels with wild yeast and bacteria for a year or two, then bottle-condition it Champagne-style to add a subtle finesse that most beers lack.

Boasting a healthy blend of beer and wine characteristics, the newly released ales—notably Temptation (blonde ale aged in Chardonnay barrels) and Supplication (brown ale aged in Pinot Noir barrels)—are more for sipping than guzzling. We think you'll like pairing the tart Supplication with a spicy steak, and the buttery Temptation with sushi.

And if the first few sips perplex you—we call it the beer-or-wine conundrum—by the end, you won't be able to get enough.

It's an acquired seduction.