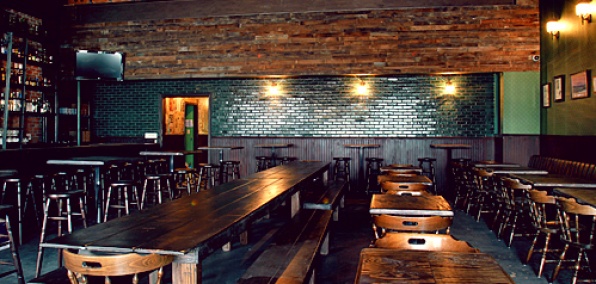 On Mondays, you get hit with a barrage of noise. Allow us to cut through it with some important keywords.
Scotch. Beer. Steaks. Late-night. Fairfax.
In case you need more...
Welcome to
Rosewood Tavern
, the next much-anticipated neighborhood spot from the owner of the Bowery, officially opening Friday at Fairfax and Rosewood.
Like most of the owner's places (District, Mercantile, Delancey), this one already feels well-worn and full of stories, a cavernous hall of concrete and open beams that gives you the sense everybody's been sitting around the beat-up communal table, slinging scotch and carving into steaks, for years.
As for that meat: it'll come in the form of chops,
Steak and Ale Pie
or a
Slow-Roasted Beef Dip Sandwich
(it's sort of like a French dip, but not). And in addition to the deep list of scotches on hand, you'll also see a big chalkboard on the wall listing all 28 beers on tap, from O'Hara's Irish Stout to Eel River Triple Exultation.
Quadruple exultation would be too much
.
Note:
<a href="http://www.rosewoodtavern.com" target="_blank">Rosewood Tavern</a>, opening Friday (possibly soft-open Thursday, call first), 323-944-0980