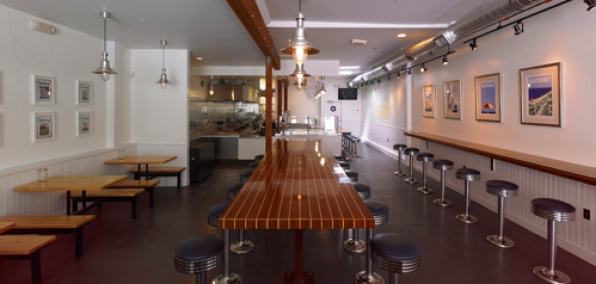 Ah, Nantucket.

Just hearing the word brings to mind well-weathered beach houses, sailboats, and lots and lots of pearls.

Not tacos.

But keep an open mind about this one...

Introducing Tacko—a breezy, Nantucket-themed taco shop that's serving up your favorite Mexican street food amidst seafaring relics and yacht club flags—opening next week in Cow Hollow.

Since it's brought to you by the original guy behind Nick's Crispy Tacos and the Taco Shop at Underdogs, you can rest assured that what it lacks in Mexican-themed decor it makes up for in carnitas worthy of becoming part of your regular rotation.

There's no sign with a sombrero on it or anything, so look for charming flower boxes and shutters out front. Inside, a wall-sized map of Nantucket and picnic tables give off a chowder joint vibe, but don't be deceived.

Pass the compass marking mileage to distant places (if you're curious: Nantucket is 2,761), grab one of the blue stools at the chef's counter and order up the french-fry-filled California burrito. Or if you can't get past the decor, they've kept one remnant of New England fare on the menu: the mighty lobster roll, made with butter, not mayo.

And before it's all said and done, you'll want to dip into some Mexican beers, or try the agave-and-soju-spiked agua frescas served out of frosty sand pails.

The sand pail is the new boot.