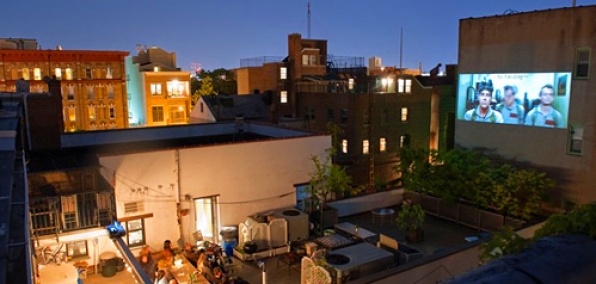 This weekend, you ride into movie history.

But before you do, here's some last-minute advice.

Wear a helmet, signal before you turn and double-check that there's air in your tires.

Introducing the Bike-In-Theater, a mysterious pop-up cineplex where you'll catch seminal summer comedies and discreetly sip beverages from the seat of your 10-speed, premiering tomorrow.

It would appear we've finally found the spiritual (and Al Gore–approved) successor to that forgotten piece of Americana know as the drive-in movie. A dead-end detour somewhere in North Brooklyn where celluloid treasures (occasionally from the 1980s) are screened 40 feet up the side of a building. No ticket required—just a two-wheeler. And a blanket. Unless you like sitting on a stick for two hours.

So you'll grab your bike, drape your date over the handlebars and pedal out to parts unknown (the location's a closely guarded secret) for a movie under the stars. And while you watch the two-story-high projected flick from the comfortable confines of your Schwinn (or blanket), a quintet of gratis gourmet popcorn buckets (think Cajun, Garam Masala and something popped in duck fat) will be brought over.

If all should go well, you can expect this ride-in theater to become something of a monthly event. With a new location, new movie and new themed concession for each showing.

So keep the chitchat and wheelies to a minimum.