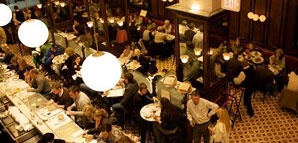 Crossing the Atlantic could get you to France—but so could approaching the Pacific.
All you have to do is careen past the Third Street Promenade, but stop before you hit the water, to find
Anisette
, the long-awaited brasserie from acclaimed French master chef Alain Giraud.
Drop in solo for a glass of wine at the long zinc bar, or grab your date and sneak onto the balcony in the back of the giant space for a panoramic view of the restaurant bustle below. Though it all feels authentically French (and with the wainscoting, antique mirrors and red booths, authentically old), Giraud's partners also own the way-Hollywood
Falcon
—so you're in capable, American-friendly hands. (Waiters won't curse at you under their breath in French unless you ask them to.)
It's breakfast-only to start, but soon you'll find French dinner items like roast chicken and steak tartare, plus tasting menus and seasonal dishes from the farmer's market. And when they do make the leap to other meals, they'll use separate menus for breakfast, lunch, dinner and late night.
Which doesn't sound super-French to us. And that's probably why we like it.