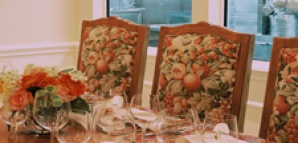 Studioheads, your lady's parents, the occasional dinner with Hal Holbrook—sometimes you have to entertain a different demographic.

Step back into another era with the new Table One Package, an epic 18-hour-or-so experience at the classic Hotel Bel-Air—featuring what might be the city's only private dining room that's actually inside the kitchen.

The evening is meant for four couples, so you'll want to save it for those times when you've got lots of future relatives/business partners to impress (or when Holbrook brings the entourage). It starts when you check into your rooms and pop the cork on one of the wine cellar's best bottles. Next you'll descend into the kitchen, where Table One awaits behind a picture window. The room's abit... conservative (don't say we didn't warn you), but then again, you don't go to Bel-Air for a night of paparazzi and booming club music.

After a chat with the chef, you've got seven surprise courses coming (maybe some American-Style Kobe Beef, maybe Dover Sole with Morel Mushrooms), all paired with more wine from the cellar.

And after you sleep off the feast? Breakfast in bed, of course.

But it'll just be the two of you enjoying that one. Probably.