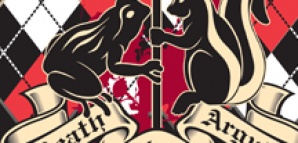 Heard you're going golfing soon. We're jealous.

One thing we'll say: Just because everybody else will be looking fairly dweeby out there doesn't mean you have to. There are brands that can help you avoid what we like to call golf's "style bunker."

One of them: Death to Argyle.

Started last year by 30-something twins as a women's golf wear line (think Amy Winehouse meets Michelle Wie...OK, stop thinking of this), Santa Barbara-based Death to Argyle recently branched out into menswear. The Summer '08 line softly launched recently with a few edgy pieces that walk the tightrope between "something you'd actually wear" and "gotta get into this country club."

Designer Willow Wayne (yep, real name) manages to respect the golf tradition she grew up in while adding bolder, rockabilly-retro twists: one polo celebrates two of your favorite things, stogies and golf, with a giant cigar band emblazoned on the back; while another polo, featuring a smiling, winking devil on each shoulder, might just be the trick to psyching out your opponent.

At the very least, it'll work as a solid icebreaker come the 19th hole.

And that's the game you really care about.