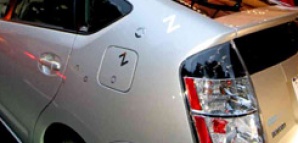 We all like things dirty as much as the next guy, but some things—like your air and conscience—might be better off clean. Try ditching the Lincoln Town Car for an OZOcar next time you want to get somewhere in style.

The "first eco luxury car service" is an earth-friendly alternative to taxis, town cars, and other gas-guzzlers, which means you'll not only get to your destination in a new, futuristic-looking vehicle, but you'll also be helping the environment (a relatively easy move for those who can't seem to figure out recycling). The brainchild of childhood friends Jordan Harris (co-founder, "Rock the Vote" and Virgin Records US) and Roo Rogers (founder, Drive Thru Films), OZOcar stocks hybrid vehicles like the Larry David-endorsed Toyota Prius, as well as a soon-to-be-released line of SUV hybrids including Toyota Highlanders and Lexus Rx400h and GSn 450h's (in case you need to ease into the whole "sensitive to saving the planet"-small-hybrid-car thing).

The tricked-out cars come equipped with wi-fi internet access and an Apple iBook for those compelled to surf en route, and a Sirius satellite radio plays the tunes you (not the driver) want. The $45-an-hour service also offers eco-friendly rides to JFK, Newark (both $60) and LaGuardia ($45).

With one aspect of your conscience cleansed, this leaves room for other, more...worthwhile vices.