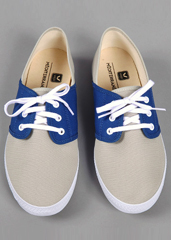 You love the beach.
The summer breeze. The sensual application of zinc to your nose.
The rustle of sand inside your beach shoes.
Which reminds us: you need some beach shoes...
Introducing the Veja Méditerranée, a compelling new candidate for the historic honorific of "perfect beach shoe," available now.
Consider this the lightweight vessel to carry all of your beachy hopes and dreams through the summer. Also, a handsome shoe—the kind of thing Alain Delon would have worn to a beach party in Cannes in 1962.
If they look familiar, that's because they mix the elements of several established classics—the sole of a plimsoll, the heel of an espadrille, the laces of a boat shoe and the heart of an eagle. (You know, a beachy eagle.) And while the designers are French (hence the laid-back, Saint-Tropez vibe), the soft rubber and cotton canvas were harvested and stitched together in Brazil.
So consider your next trip to São Paulo a homecoming.