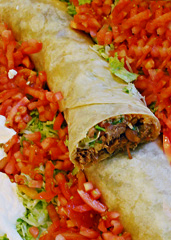 Beach season grows near.
That means shorts, no shirt and your well-oiled beach body on display for all to drink in (and what a drink it is).
And since you've been on a strict salad and tuna diet to ensure your physique stays Hasselhoff-ian toned, we thought you could use a break.
By which we mean a three-foot-long burrito.
Introducing
The Cubio
, the diet-destroying, meat-tastic über-burrito of your Mexican food dreams (or nightmares), available now off-menu at Anna's Taqueria.
To get an idea of this behemoth, picture a freshly constructed, flour tortilla burrito from Anna's (go ahead, we'll wait).
Now, take that image, make it a little over 30 inches long (roughly three large tortillas overlapping one another, end to end), and then begin stuffing it. Hard. First, with the requisite rice and beans (pinto, black and refried), and then with every meat in Anna's house: grilled chicken, chicken ranchero, carnitas, chili verde, rotisserie pork with pineapple, steak, steak with salsa roja, and finally, beef tongue (the maraschino cherry of meats).
The whole thing is bolstered by guacamole, sour cream, lettuce and tomatoes, and weighs in at about five pounds—thus supplying you and a few buddies with some tasty Mexican vittles while you're watching the C's claw their way back against the Heat.
Rondo, please note: do not eat this before a game.