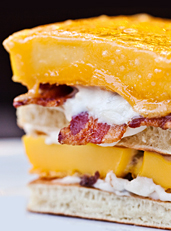 Last weekend was almost perfect.
You won a dance-off versus an Olsen twin at Paul & Andre. You and Mom climbed Mount Baldy without spilling a drop of your martinis. And thanks to your proficiency in mythology and hammers, you just got hired to write
Thor 2
. (Working subtitle:
Hammer Time
.)
But in the harsh light of Monday, you now realize you forgot one crucial thing: pancakes. Lots of pancakes.
Don't let it happen again: mark your calendars now for
Pancake Lasagna
, the towering centerpiece of a three-day pop-up from Foundry chef Eric Greenspan, going down this weekend at Tart on Fairfax.
From the bottom up, this is pancake lasagna: first, pancake instead of pasta. Then bacon, then egg, then cheese. Then more pancake, sausage, egg and cheese, with maple béchamel between every layer. It's like the best Italian dinner you never had for breakfast.
But if you'd like a couple of alternates to this titan of a.m. power, chef Greenspan will also be slinging a lasagna with egg whites and vegetables, and...
Jewsagna
, with layers of bagel pieces, cream cheese and lox. (We hear it's huge at 9am bar mitzvahs.)
And in case you'd like to get in a little workout before your morning 'zag, they'll have a ping-pong table set up to host impromptu tournaments.
Loser buys the syrup.
Note:
Pancake Lasagna, available May 13-15, 9am-2pm, $12, at <a href="http://www.tartrestaurant.com" target="_blank">Tart</a>, 323-556-2608